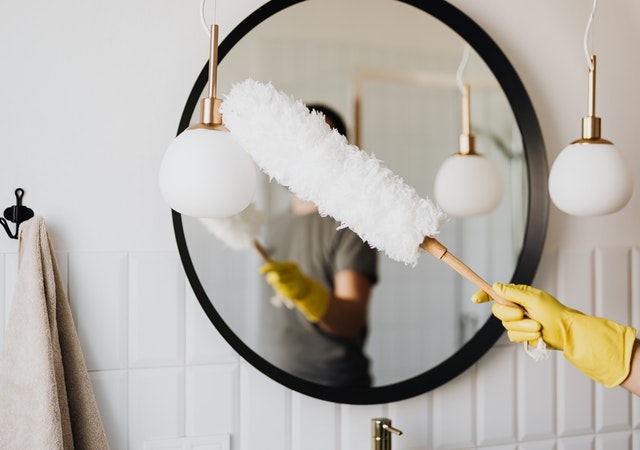 Everyone needs to clean regularly, but sometimes lack the time or may no more be able to clean as deep as we used to do. Is now the time to hire a residential cleaner to help out? Maybe.
Residential cleaners are convenient, but do you have the capability to afford one?
We often hear people asking 'what is the cost to hire a cleaner?'
We understand the toughness involved in getting answers to that so we thought we would get all the necessary information you could want to know about the cost of house cleaning in Melbourne in one place.
These pricing guide will provide you an overview of the costs of house cleaning across Australia based on various factors and answer your frequently asked questions to give you a better understanding of the fair and reasonable rates for house cleaning.
What is the Cost of House Cleaners in Melbourne?
The cost of house cleaners starts from $100 to $180, based on the size of your home as well as the service they are performing. Cleaning a one or two-bedroom apartment could be charged at $100, $125 to clean a three-bedroom unit, and $180 or higher to clean a four-bedroom.
Numerous factors impact the overall price you get charged by a cleaning service to come and clean your home which, definitely varies from one company to another.
Therefore, to put the answer to this question in approximate figures, you can expect to spend around $30 for a one-bedroom and $200 for a 3 bedroom house.
House cleaning cost will vary based on several factors, such as:
The size of your home
The number of rooms that need cleaning
The number of levels of your home
Your location
The cleaner's professionalism and overheads
How frequent you need your home cleaned
What cleaning services you need to be performed
What is the Median Hourly Rate for Cleaning in Melbourne?
Cleaning in Melbourne attracts an average hourly rate of about $30 to $35 per hour, however, this price varies based on who you hire. Private cleaners charge an average of about $25 to $30 per hour whereas the majority of cleaning companies charge an average between $35 and $45 per hour and usually top-quality companies will charge an average of $45 to $55 per an hour. Hourly rate services are easily booked and they often have flexible terms included.
Based on history, cleaning companies would ask to visit your property to assess your needs and would then provide you an estimate on the level of cleaning you would need with an hourly rate attached. Today, you can generally book your hourly rate service online and choose the amount of time you need.
The advantages of hourly rate services include:
Since you can fix time, and you can therefore fix your cost
You can always ask cleaners to clean to your preferences and priorities
You can choose certain areas of the house
However, there are also some limitations
The speed of work is beyond your control, so determining how much will be done is difficult.
Unprofessional cleaners will clean without considering the time and make effort to overcharge you.
Since the service is dependent on time rather than the result, the service usually lacks outcome guarantees.
Hourly rate services will significantly vary based on whether you decide to privately hire a cleaner or if you opt for an agency..
Should I Hire a Professional Cleanings Service or a Private Cleaner?
Private Cleaner?
Cost is the major benefit of choosing a private cleaner. Since the person will be working for you directly, there is no intermediary and therefore the price is much lower.
However, the lower price is accompanied by some risks. There are many skilled and honest private cleaners in the market, since there is no security and reputation of a company supporting them, you may encounter:
Low-quality cleaning or inconsistent cleaning
Mediocre customer service
Higher possibility of theft/security problems
No background checks
No online reputation to hold the person accountable
Less reliability
If you have a budget and are prepared to take the risk, then choosing a private cleaner is surely an option. You may luckily find a skillful worker who is open for a long-term relationship too, however, it is kind of a lottery and you generally get what you pay for. It is better to opt for a cleaning service since there is no much difference.
Cost of private cleaner:
Minimum – Approx. $15-20 per hour
Average – $25-30 per hour
Higher – $35-40 per hour or higher
Cleaning Companies?
Most cleaning services that are performed are through professional cleaning companies or agencies and there are many reasons for this. The advantages of hiring a company are always the major reasons you would consider them:
Consistent and higher quality of cleaning
Professional and properly trained customer service representatives
Cleaners are insured, background checked and kept accountable for their result and conduct
The company often has an online reputation to protect by working hard
There are quality control measures to make sure cleaning is consistent.
Naturally, the drawback of choosing a cleaning company is often the price. If you need peace of mind with who you permit into your home, we would recommend hiring a cleaning company.
Cleaning Agency cost
Minimum – Approx. $25 per
Average – $35-45 per hour
Higher – $45-55 per hour or higher
How long does it take a Professional Cleaner to Clean a House?
General Housecleaning
Generally, the number of bedrooms is equal to the number of hours required for general house cleaning. However, most of the cleaners would charge for at least 2 hours. The estimation above may vary based on the size, condition, and cleaning preference list. For instance, one reliable professional cleaning company based in Melbourne charges $70 to perform general cleaning for a 2-bedroom or 1-bathroom home.
Converting the cost into an hourly rate will equate it to $35 per hour per cleaner. Also, a 4-bedroom house cleaning would be charged at $140. That means the cost is calculated based on four hours of general cleaning. It could be 2 people spending two hours each on the job, or just one person working for 4 hours. One thing you need to know is that if it's been a long since you last clean your home, the first clean might take a longer time. This big clean could be on for an hour or extra to complete it.
Checklist for regular house cleaning
Kitchen: Benchtop, Splashback, Sink, Cooktop, Taps
Bathroom: Vanity, Basin, Taps– Shower Screen,
Dusting the Furniture
Vacuuming the floors with Carpets
Mopping the hard floors
Spring Cleaning & Once In A While Cleaning
A deep or thorough clean might be necessary once or two times a year, including other areas for cleaning, such as skirting boards, cabinets, and windows to be cleaned. Many cleaning companies would have this covered in a deep clean, also referred to as spring cleaning or once in a while cleaning.
Spring cleaning is ideal when you are getting your home ready for a change of season, an event, or just a party. It will involve extra work and time to clean walls, doors, and skirtings, so the cleaner may charge a modified hourly rate.
End of lease cleaning
The checklists become more tedious and tiring for a rental bond cleaning or end-of-lease cleaning. This service is known as End of Lease Cleaning Melbourne. We recommend getting this cumbersome level of cleaning when you are moving out of your property and need to recover your bond back from the realtor or the holding agency.
How Much Does It Cost To Clean A Two-Story Building?
Based on the size of the house and the level of cleaning it needs, it can take some hours or a whole day to clean a standard two-story house, which means the cost can be from $100 or less up to $800 or higher based on the current average hourly rate of house cleaning in Australia.
For example, the window cleaning, just for a double-story house costs about $150 and $700 based on their number and other related factors. You should also know that some cleaners charge $25 as a surcharge for cleaning a multi-level property. That is understandable since they will have to clean stairs, hallways, balustrades, and landings, which are often charged a room if much, and maybe to move some heavy equipment or appliances upstairs or other tasks.
What Is The Cost To Clean A Three-Bedroom House?
Be ready to pay $125 to clean a three-bedroom house that has a 150-250 m2 that has one bathroom, and about $170 of the house has 3 bathrooms. Also, you may pay $280 for the basic clean of a 3-bedroom, 2-bathroom house, if carpet steam cleaning is included and the entire rooms are carpeted. Dusting, taking the trash out, vacuuming and mopping all floors, completely clean of kitchen and bathroom are all included in the basic cleaning:
Wiping down all bench tops,
Cleaning stovetop,
Cleaning sinks and basins, and
Cleaning showers and toilets.
On the other hand, if you are performing end-of-lease cleaning, which has to be deeper, the prices may fall between $450 and $1,000 for a 3-bedroom house with almost 3 bathrooms.
You can obtain full cleaning of a 3-bedroom house for about $400 and thoroughly cleaned including windows for about $800, while the average rate of cleaning for this type of job may be about $200 – $350.
So, the overall house cleaning price majorly depends on your home size, location, type of cleaning, as well as the scope of work to be used.
What Is The Cost Of End Of Lease Cleaning Service?
The cost of move-out cleaning is between $200 for smaller houses and may sometimes be above $1,000 for larger houses or those that are in excessively poor condition, with average prices ranging from $350 to $400 for standard homes.
For instance, a house cleaning calculator gives the following estimate for a dull-package:
$270 to clean 3-bedroom homes with 3 bathrooms and
$580 for large homes with 1 or 2 more bedrooms and bathrooms
Even though the rough cost of the end of the lease for a 90m2 house is about $300, the prices may increase if your house is so much filthy.
What Is The Cost To Deep Clean A House?
If you are planning a deep cleaning for your house, expect to pay expensive rates than for standard normal home cleaning, up to $60 – $90 per hour in certain locations based on the inclusions of the service.
For example, a deep clean in a 4-bedroom house with two bathrooms would cost between $270 and $520 as a Melbourne resident. If you have pets or there are stains on your carpets, walls, or floors, expect to pay more.
Regular house maintenance is so much different from deep cleaning, full home sanitation is often done by people once or two times a year.
Why Hire A Residential Cleaner?
You might want to look into hiring a residential cleaner for different reasons:
To provide a thorough one-time clean for your house
To be able to give you enough time in your busy life
To come in to make your house clean can't do it
When determining the cost of hiring a cleaning service, remember the factors discussed in this article strongly to know the cost, on average, you should pay to have a professional clean your house.
Want to get quotes now and avoid struggling for it later? We are a highly recommended service and we suggest you use our booking form to obtain a quote in 1 minute or check our pricing guide.
Source: https://cleanhousemelbourne.com.au/cost-of-domestic-cleaning-in-melbourne/