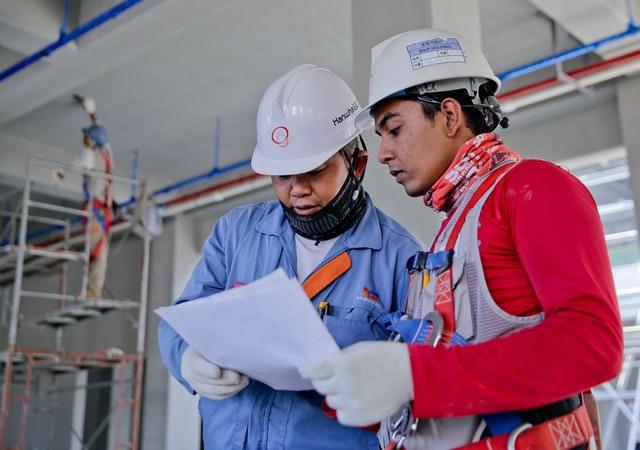 It's important for construction companies to build good relationships with their customers. Unfortunately many construction projects end in an adversarial position. It becomes 'them and us'. Contractors view the client as out to get them, and customers often view contractors as a bunch of crooks. Yet, I've had many long successful relationships with some clients. They weren't always happy with us, and nor were we always happy with them. We had our disagreements and arguments, but in most cases the construction project was finished well, issues were sorted amicably, and seldom did one party feel aggrieved. In fact in many cases we constructed further projects for the same customer – sometimes, even becoming their contractor of choice.
Why it's important for contractors to develop good customer relations
Having a good relationship with customers often means the customer favours the contractor for their next project, sometimes even directly negotiating new projects with them, or even awarding projects to the contractor when their price isn't the lowest. The customer is prepared to pay a premium to work with a contractor that they know they can trust and rely on to deliver their construction project on time and with good quality.
​
Having a good relationship with a client often means the contractor can obtain the inside track on forthcoming construction projects, enabling them to be one step ahead of competitors. Knowing what the customer is really looking for has enabled us to strategically position our price presentation, ensuring that we answered the customers concerns, that we could demonstrate that we understood what was important to the customer, and we could portray our company as the best for the project.
Construction projects are built with a team effort. A team that's striving for one common goal to complete the project successfully. Projects are built on trust, with the client and the contractor helping each other and not out to trip each other up.
Having a good relationship means the contractor understand the customer's needs and focusses on delivering a project that fulfils these needs. It enables the contractor to put the right people on the project.
Having a good relationship means that the contractor and the customer can talk through problems, present their concerns, and develop solutions. Issues can be resolved without resorting to lawyers because there's already empathy and respect for the other party. A good relationship means that there's open and honest dialogue. Good relationships reduce conflict. Good relations help resolve problems.
How do we develop relationships with our clients in construction?
Building good relationships depends on individuals, yet it's also a team effort. A good relationship between a client and contractor can quickly be destroyed by one individual – perhaps the contractor's project manager who has an argument with the client, possibly is rude, or lodges spurious claims.
Good relationships are built on trust and honesty. They survive on delivering quality projects on time.
Good relationships are built by talking, by working through problems, and most importantly by being sensitive to customers and their needs. Of course good relationships are a two-way street, and both the customer and the contractor have to build the relationship.
Egos and personal gain destroy relationships.
​
Even the best working relationships have to be worked on, so contractors should stay in contact with their past customers. Today many have a frenetic and busy life and past good relationships can be forgotten at the end of the project. It's important to keep contact with customers, give a call, or even pop in for a coffee.
What shouldn't destroy relationships
in construction
Regrettably, sometimes having a good relationship with a client harms the contractor. For instance, sometimes contractors are reluctant to submit variation claims for fear of ruining a good relationship. But, contractors are entitled to submit legitimate variation claims for delays or additional costs caused by the client and for events which the contractor couldn't have reasonably foreseen, events which are claimable in terms of the project contract. Indeed, clients should never hold legitimate variation claims against their contractor, no matter how strong the relationship is between the client and contractor. Even the largest claim shouldn't destroy a good relationship, providing the claim is legitimate and the contractor has done all in their power to mitigate the events. In fact, a true test of the relationship is how the client treats their contractor. Deplorably many relationships which contractors view as being strong are in fact one-sided and almost entirely dependent on the contractor's subservience to the client's whims. A one-sided relationship is an unhealthy relationship.
In the same manner contractors need to be cautious of being seduced into doing favours, possibly doing extra work, even not complaining when payments are late, because they're fearful of damaging the relationship they have with their customer. It's vital to always keep to the rules of the contract, no matter how sound the working relationship is.
It's important to talk issues through with the customer, but contractors cannot rely on verbal agreements alone, no matter how strong the relationship or the trust between the parties. Even strong relationships can be shattered when one member of the party has their back against the wall, and verbal agreements are expediently and quickly forgotten.
On occasion contractors become used to working only with certain clients. Clients they have a good working relationship with. This could lead to a dependence on these clients and their projects, which may be the undoing of the contractor should the relationship suddenly end, or perhaps the client's run of projects comes to a halt. Contractors should never be complacent, dependent on only a few strong relationships to bring them a continuous supply of work.
​
Of course under no circumstance should the relationship lead to dishonesty. No customer or contractor should be favoured in a dishonest way simply because the parties have developed a good working relationship.
Successful projects are built on good relationships between all parties
As contractors we should be sensitive to our customer's needs. We have to put energy and effort into building sound relationships, taking the time to talk to our customers. Indeed we must have empathy with our customers and understand the problems that they must deal with. However, this empathy doesn't have to come with doling out freebies, rather it's about helping the customer and talking through problems and issues. We must know our customer's expectations and ensure that we can meet their expectations.
Successful projects are built on good relationships between all parties on the project. Successful contractors build solid and sound relationships with their customers – relationships that are strong enough to weather the rigours that construction projects face, relationships that aren't destroyed when the parties play according to the project's contract rules, relationships that aren't easily broken by errors that are quickly fixed.
​
How have you built good relationships with your customers? Have these relationships paid dividends, or have they sometimes cost you?
​This article was first published on the ClockShark website.
For construction and field service companies who want to get rid of paper time sheets, ClockShark is the GPS time tracking app that's both powerful and easy to use.
Source: https://www.pn-projectmanagement.com/construction-management-blog/why-good-relationships-are-important-in-construction